London artists travel to Prague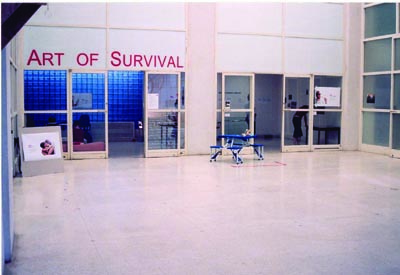 The Launch: 16 June, Czech Embassy in London,26 Kensington Palace Gardens
Exhibition: 26 June–26 August, Veletrzni Palac (National Gallery), Prague Reception: 24 July, Czech Centre 95 Great Portland Street, London, W1

Art of Survival is the British contribution to the first ever Prague Biennale. The artists of Art of Survival will present new versions of their work at the Czech Centre, London.The exhibition will also showcase material by young Czech artists including documentation of the political actions by Pode Bal and a special preview of Hypermarket Czech Dream, a provocative documentary film about growing consumerism in a country about to join the European Union. Prague Biennale 1: The Peripheries Become the Centre 26 June – 26 August 2003

"The Prague Biennale announces itself as the major art event of the year, marking the difference from all the other big international exhibitions. Young and emerging artists from every corner of the world were selected by the most influential curators (or artists acting as curators) to create a pluralistic vision of contemporary art today." (Prague Biennale press release)

Art of Survival was curated by British curatorial partnership, B+B (Sarah Carrington and Sophie Hope) in direct response to the ambitious claims of the Prague Biennale.Five UK artists were brought together who are both practicing and parodying strategies for survival in their work:
The tactic of brand jujitsu is employed to trace and promote the history of biennale boycotting over the last ten years.
An alternative economy for the artists' working life is presented through prototypes for billboards and plans for a new website.
Staying Alive by Barry Sykes and Sean Parfitt
Photos document the endeavours of an ongoing research project based on the day-to-day behaviour of survivalists and adventurers. In preparation for their journey to Prague they commenced a period of intensive manhaul training.
In Prague a resource base was set up inviting visitors to join the Campaign for Spare Time by sending pictures on a postcard to London of an ideal place to be. You can still nominate your favourite picture : click here.

Also Showing at the Czech Centre
Hypermarket Czech Dream
This will be the London debut of a highly contentious film project that fooled thousands of Prague consumers and revealed the influence of advertising on Czech society, media and politics. A promotional campaign told of a new out of town Hypermarket. Customers came from miles around to the unveiling of what was only an immense, 100 ft advertising hoarding. This action forced the nation into a public dialogue on surviving a rapidly changing economy.

Art of Survival is supported by Arts Council London, British Council with assistance from the Czech Centre, London and Austrian Cultural Forum, London