Art U Need: An Outdoor Revolution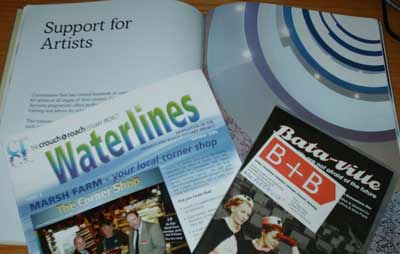 image: selection of documentents in the Art U Need Evaluation Archive (Jen Maddock).
B+B have been commissioned to evaluate Art U Need, a series of five art projects commissioned to take place in five sites across South Essex.

ABOUT ART U NEED: AN OUTDOOR REVOLUTION
Five contemporary artists have been commissioned to make work in different neglected spaces across south Essex. The series of artworks are being curated by lead artist Bob and Roberta Smith. The works are meant to contribute to the regeneration of these public spaces and involve close collaboration with local communities.
The projects are now coming to an end and the evaluation is nearly done so further information on the evaluation will be available soon!

Art U Need was initiated by the Thames Gateway South Essex Partnership (TGSEP) through their Investing in Communities Programme and is managed by Commissions East. The funders are East of England Development Agency and Arts Council England, East.

This evaluation is lead by Sophie Hope with assistance from Jennifer Maddock and Valentina Gottardi.