Trading Places Programme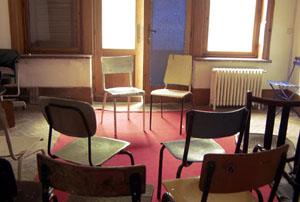 see below for caption and credit
All events are FREE
Traded Bodies Thursday 13 May 6–8pm
UK premiere of Remote Sensing by Ursula Biemann, followed by a discussion focussing on the global sex trade. Discussion chaired by Doina Petrescu (Sheffield University).
B+B Guided Tour Saturday 15 May 2pm
Sarah Carrington and Sophie Hope (B+B) will give an informal tour of Trading Places.
Documentary in Process Thursday 20 May 6 – 8pm
UK premiere of Things. Places. Years. a documentary by Austrian artists Klub Zwei. Discussion chaired by artist and curator Anthony Auerbach.
Representation or Action Saturday 22 May 12 – 4pm
An afternoon of discussion and debate with Trading Places artists including Phil Collins, Adla Isanovic, Martin Krenn, MAIZ and Lisl Ponger. Discussions chaired by Susan Kelly (Goldsmiths University) and John Nassari (University of East London). Followed by Fly No Fly Zone, a collaborative performance in the park led by allsopp&weir, 1600h.
Screening of The Truth Lies in Rostock Monday 24 May 6 – 8pm
Screening of film made by Siobahn Cleary and Mark Saunders (Spectacle) in 1994 that looks at the racially charged incident that took place in August, 1992, at Rostock, in the former East Germany, involving an attack on a hostel for Vietnamese refugees and guest workers. The screening will be followed by a discussion with Mark Saunders of Spectacle.
Artist as Channel: Broadcasting and Reporting Thursday 27 May 5– 8pm
UK premiere of Sarajevo International by Kristina Leko and Sarajevo Guided Tours by Isa Rosenberger. Discussion chaired by artist and curator Edina Husanovic. There will be a repeat performance of 'Point Exit', by dancers: Charlene Webster, Emilie Maurel, Emily Neal, Sade Edwards and artist Edina Husanovic at 5pm before the screenings begin.

Events are free but places are limited.
Please contact Nick Kaplony on 020 7350 0523 for details.
The above events will take place at Pump House Gallery, Battersea Park, London SW11 4NJ
Photo taken by Martin Krenn as part of his project, City Views. Caption:
"I played a piece of theater in the Universal Embassy. The piece was about: The minister of internal affairs in Belgium thinks that he is in danger because of the presence of refugees. He decides to seek political asylum in his own country, in Belgium. He goes to the office of migration, the only place in Belgium where you can ask for asylum. But they reject it and they give him five days to leave the country. He doesn't want to accept that.
They tell him that they will try to find another place for him in Africa or in Eastern Europe to send him out from the Belgium territory. They put him in a closed center and he can't believe he finds himself in a prison, but they tell him that these closed centers (which actually he had created) are like hotels."
Text by Albertino Rakipi
Photo shot with Albertino Rakipi, Universal Embassy resident