HUNGARY CAN BE YOURS! / International Hungary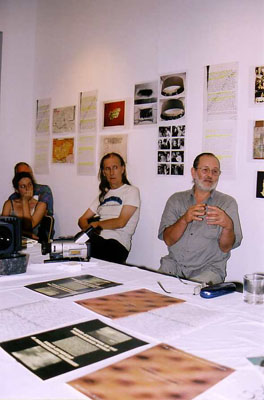 5-15 August 2003
In 1984, the exhibition Hungary can be yours! / International Hungary organised by Artpool at the Club for Young Artists in Budapest was shut down only hours after opening. The secret agent reporting on the exhibition at the time claimed that the works 'mock and attack our state and our social order as well as the state security organs'.
György Galántai, the instigator of this exhibition, and founder with Julia Klaniczay of the Artpool Art Research Centre in Budapest, will present documentation from the original exhibition, the last to be banned in Hungary. The secret police documents and material from subsequent reconstructions of Hungary can be yours! will also be on display.
Related events:
Tuesday 5 August 1900h
Screening of Vacation. The Story of the Chapel Gallery of Balatonboglár 1970-1973 followed by a discussion with György Galantai. The Balatonboglár Chapel Studio was a summer studio for Hungarian avant-garde artists and guest artists from abroad run by György Galantai from 1970-73. The Chapel Studio was closed by the authorities in 1973 on the grounds that its activities fed the underground roots of Hungarian avant-garde practices. This presentation coincides with the launch of a new publication outlining the history of the Chapel.
Thursday 7 August 1900h
Presentation about the history of the Artpool Archives by Judit Bodor followed by an informal discussion about the Hungary Can Be Yours! / International Hungary exhibition with György Galántai and Julia Klaniczay.
HUNGARY CAN BE YOURS! / International Hungary is a preview to the Magyar Magic - Hungary in Focus 2004 one-year long celebration of Hungarian culture and is supported by the Hungarian Cultural Centre in London and Visiting Arts.