B+B at Home with Helmut and Johanna Kandl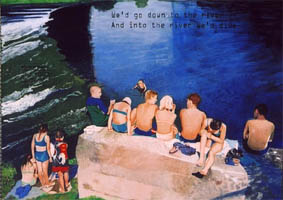 photo: Untitled (we'd go down to the river) 150 x 115 cm, tempera/wood, 2003. Courtesy Galerie Christine König, Vienna
From Baghdad to Babylon
20 August 12 September 2003
Helmut and Johanna Kandl are curious about Britain's complex relationship to the Middle East. They have chosen to examine this relationship through the holiday snapshot. During their residency at the Austrian Cultural Forum tn September 2003, the Kandl's collected photographs of travels to the Middle East.
As the artist's explain, 'One of the most important aspects of our work is communication. As a tool for communication we often use holiday snapshots as they open a door to the "private" world of people and because they are perfect for starting a conversation.'
The collecting of personal photographs is part of their ongoing project, Auf der Insel Bella Lella (On the Island Bella Lella) which uses holiday snapshots to examine shifting definitions of otherness. The project has taken place in two neighbouring towns, one Austrian and one Czech and in Germany. For their exhibition in London, paintings and documentation of the first two parts of the project were shown.
In 2002, the artists made connections between Laa in Austria and Znojmo in the Czech Republic. The legacy of political and economic differences has created prejudices and cultural stereotypes on both sides of the border. As the Czech Republic prepares to enter the EU, there is a sense of skepticism in Austria due to a fear of rising crime and worries over increased competition in business and employment.
The Kandl's created an alternative map of these historically opposed territories. By showing the holiday snapshots of people from Znojmo to people from Laa, they revealed the dreams of people on one side of the border to the other. Snapshots taken by the artists during the project provided Johanna with raw material for a series of paintings which will be on show during From Baghdad to Babylon.
For this, the third realisation of On the Island Bella Lella, the Kandl's researched and represented perceptions of the Middle East as captured in holiday snaps gathered from people in the UK.
Helmut and Johanna Kandl also gave a talk on 4 September at 1900h at the ACF
'From Baghdad to Babylon' was realised in cooperation with Galerie Christine König, Vienna.
Biographies:
Helmut and Johanna Kandl are based in Vienna, Austria and have been working together on projects in response to specific social questions and problems since 1997. As a photographer and painter respectively, they have gained significant international attention for their projects and interventions.
Joint exhibitions include: Graz Photography Triennale, 2003; Touristic Gazes, Kunstverein Wolfsburg 2002; Werkleitz Biennale, Tornitz/Werkleitz, Germany 2002; and Your Way to the Top, Museum in Progress, 2001.
Helmut Kandl's solo works, A Doctor From Vienna and Portraits Austria 1942-44 were shown in Potential: Ongoing Archive at the John Hansard Gallery in 2002.