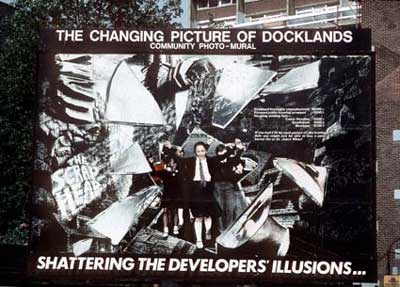 image: Loraine Leeson and Peter Dunn, Docklands Community Poster Project, 1981–1991 (Courtesy the artists)
ICA, 23–28 August, 2005

As part of london in Six Easy Steps at the ICA, curatorial partnership B+B have developed Real Estate as a response to the use and ownership of land in a city currently preparing for the 2012 Olympics and threatened with terrorist attacks.
Streets and open spaces are commercially managed, regulated by new legislation and surveyed by four million surveillance cameras (source: www.liberty-human-rights.org.uk). Meanwhile cultural policy emphasises the potential 'culturally-led regeneration' to transform the city and artists become accidental property developers through processes of gentrification and a hunger for 'creativity' within lifestyle housing.

Artists and activists featured in Real Estate take these forms of control and instrumentalisation as a starting point from which to intervene, subvert, play and disrupt the city.

See our news blog to make comments and feedback on Real Estate.
B+B would like to thank:
Danielle Arnaud, Emma Derrick, Davina Drummond, Peter Dunn, HamesLevack, Leeds University, OFFMO (Samson Adjei, Greg Epps and Sean McMahon), Thorsten Streichardt, Wolverhampton University and all of the contributors to Real Estate.