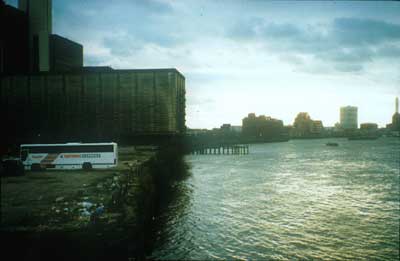 image: public works (Torange Khonsari), 'The "Effra" site by the River Thames, Vauxhall', 1998
REAL ESTATE PROJECTS

Click on the names to see more information
Allsopp&Weir
Anna Best and Paul Whitty and Jules Mylius
Polly Braden and David Campany
Lottie Child
Phil Coy
Shezad Dawood
Jon Fawcett
Hewitt & Jordan and Dave Beech
publicworks (Torange Khonsari)
Loraine Leeson and Peter Dunn
Spectacle
Roman Vasseur

Fly No Fly Zone: UXB (2005)
allsopp&weir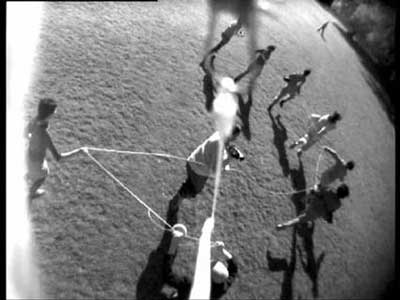 image: allsopp&weir, 'Fly no Fly Zone (UXB)', video still, 2004 (courtesy the artists)

Fly No Fly Zone: UXB is a series of films that propose an imaginary mapping of zones of potential flight. Filmed from the air by a kite-mounted surveillance camera, participants are invited to form temporary communities in flight as they attempt to fly the kite. The film shown in Real Estate was produced at the now demolished Lathams Timber Yard, Clapton, East London, where four unexploded WWII bombs are buried underground. The 53,000 square metre yard will soon house a twelve storey residential tower block. Underground, the bombs remain, while the site lies suspended in between uses; rubbish dump, shelter, site of violence, romance, nature and fear. Fly No Fly Zone: UXB produces an uncertain rhythmic relation between the kite's gaze and the dormant explosive devices.
www.allsoppandweir.com

Roads for Prosperity and Progress (1994)
Anna Best and Jules Mylius
Roads for Prosperity and Progress is a video work that focuses on the rampant pursuit of road building. A soundtrack of early techno music drawn from the record collection of Jules Mylius accompanies the rhythmic movements of trucks and diggers.
Vauxhall Pleasure (2004)
Anna Best and Paul Whitty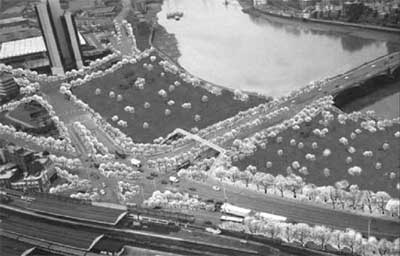 image: Make Vauxhall Cross a Forest

Ten years after making Roads for Prosperity and Progress, Anna embarked on a project with composer Paul Whitty for Vauxhall Cross, former site of the infamous Pleasure Gardens, and now one of the busiest road junctions in London. Anna and Paul orchestrated Vauxhall Pleasure, a one-day event combining issues of creative protest in public space with a critical look at pollution and car culture. Fifty singers performed transformations of the songs of Thomas Arne (one-time composer-in-residence at the Pleasure Gardens) to the passing traffic. Recordings from the performance will be played during Real Estate alongside the Vauxhall Pleasure broadsheet, co-edited and designed by artist Amy Plant.
www.vauxhallpleasure.org.uk
Adventures in the Valley (ongoing)
Polly Braden and David Campany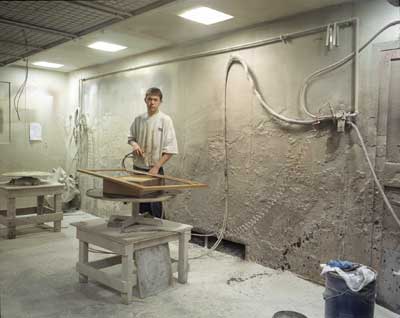 image: Polly Braden and David Campany, 'Jamie at Northcroft Furniture Factory', from 'Adventures in the Valley', 2005 (courtesy the artsits)
Adventures in the Valley is a digital slideshow presenting photographic images and text from a year-long project undertaken by Polly Braden and David Campany exploring the length of the Lea Valley, from the Thames in the south to Hertford in the north. For Real Estate, the imagery focuses on the southern end, specifically around the newly gentrified areas of Three Mills, The Greenway and the site of the 2012 Olympics. The Lea is at a moment of transition, socially, culturally, and economically. Within this dense and complex space a whole range of forces that are shaping the capital can be grasped.
Polly Braden and David Campany will lead a bicycle tour of the Lea Valley during Real Estate. See Diary for details.

Climbing Club (ongoing)
Lottie Child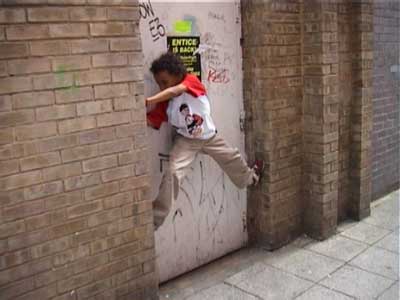 image: Lottie Child, 'Climbing Club', 2004

Lottie Child uses strategies of collaboration to research institutions, social structures and open spaces of the city. Lottie regularly facilitates climbing trips to the City of London to engage with architectural features, creating a sense of multiple modes of engagement with a group and the built environment. For Real Estate, Lottie will produce a guide to urban climbing and present a video made in collaboration with a young London resident giving tips on climbing and footage of previous climbs.
http://malinky.org
Lottie Child and the University of Openness Climbing Club will host a Risk Conference during Real Estate. See Diary for details.

Black Spot (2005)
Phil Coy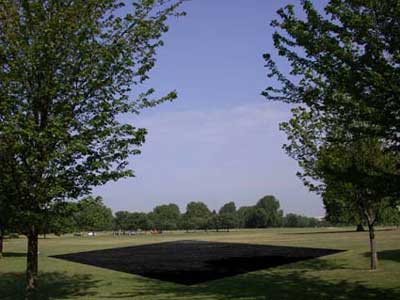 image: Phil Coy, 'Black Spot, London Prototype', 2005

During 2000, with advances made in the accuracy of digital satellite photography, the first complete digital model of the Earth's surface was completed. Since then Phil has made a series of prototypes that use basic analogue means to interfere with this homogenised model of the earth. Black Spot is a vain attempt to replace a single pixel at a one to one resolution. It is also an attempt at negation, and an attempt to draw a line between the earth and the sky. Like a world defined by its obsession with property it is both a claim and a curse.
Phil Coy will perform a revised Auto-Lecture 'Violent Property' as part of Real Estate. (First Performed at the Cornerhouse Manchester in 2004) See Diary for details.
The Killing of Chief Crazy Horse, Performance Strategies 9(ii) (2005)
Shezad Dawood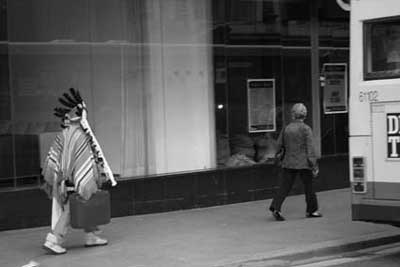 image: Shezad Dawood, 'Crazy Horse Following', 2005
For Real Estate, Shezad will present documentation of a new performance from his ongoing theatrical project: re-staging the assassination of the Native American chief Crazy Horse at the soon to be extinct Diorama Arts Centre. Formerly a critical meeting place for the black arts movement in the 1980s and latterly home to a range of cultural endeavours; from the Gay Men's Chorus to Disability Arts. The building with its histories and studios is due to be demolished by property consortium British Land to be replaced by office space (bringing with it corporate commissions from the likes of Michael Craig-Martin & Sarah Morris). By situating the performance at this location, Dawood makes a link between land disputes at the time of Crazy Horse's killing, in relation to the US government's attempts to force the Native American onto the 'reservation' and current disputes over accessibility and cultural provision in the city.

Common Star (2005)
Jon Fawcett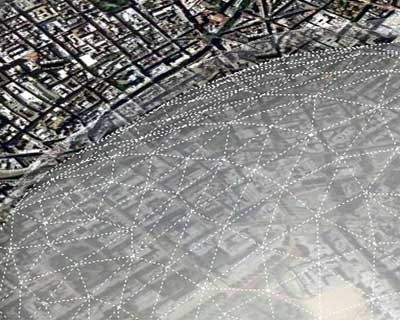 image: Jon Fawcett, 'Common Star', 2005 (courtesy the artist)

An object exists above St. James's Park, Whitehall and Trafalgar Square, measuring approximately 1400m long, 1100m wide and 1000m high. While appearing static, the object is in fact moving along a path that will take it across London over the next 17 years. Diagrams and animations depicting its estimated size, shape and location will be presented in Real Estate. Common Star has been developed in collaboration with 3D computer modeler David Cook and Anthony Steed of the UCL Virtual Environments Department and with the support of Clive Cornwell of the Corporation of London Planning Department.
www.jonfawcett.com
Jon will lead a walk around St. James's Park and Whitehall, taking in the best views of the entity during Real Estate. See Diary for details.
The function of public art for regeneration is to sex up the control of the under classes (2005)
Hewitt & Jordan and Dave Beech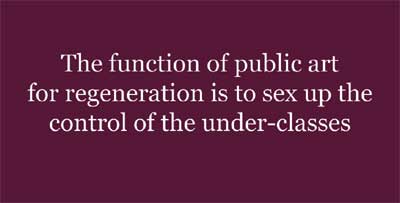 A text work sited on a billboard in East London during Real Estate, 'The function of public art for regeneration is to sex up the control of the under classes', is a work concerned with the way in which culture-led urban regeneration is advocated within regeneration strategies. Regeneration aims to change the 'mindset' and 'behaviour' (Landry, C., 'The Creative City: A Toolkit for Urban Innovators', London: Earthscan, 2000) of residents, to improve their effectiveness in creating capital and growth in order to reduce what is seen as a dependency on state provision. Whereas the need for change in terms of social justice and parity is necessary, the methods and motivation of these cultural policies, particularly the roles assigned to art and culture within them, need to be examined. This new work is a continuation of a series of text works entitled the Three Functions that discuss the functionality of public art.
www.jordan-hewitt.demon.co.uk
The function of public art for regeneration is to sex up the control of the under classes will be displayed on Upper Clapton Road, London E5 from 15th–29th August.
Local Heroes (1997)
publicworks (Torange Khonsari)
Local Heroes was a year-long project at the Effra housing development site situated between the Thames and Vauxhall cross, one of few remaining sites with the potential to connect communities in the area who have experienced three decades of incoherent regeneration projects. The project sought to claim pockets of public space within the commercial development of the Effra site by proactively utilising and subverting planning laws and English Heritage laws. Torange researched and identified local heroes, transforming them into poetic yet powerful tools of resistance. Drawings of the proposal will be shown in Real Estate, revealing the potential pockets for resistance within the spatial and legal nature of the commercial developments.
www.publicworksgroup.net

Docklands Community Poster Project (1981 – 1991)
Loraine Leeson and Peter Dunn

The Docklands Community Poster Project was founded in 1981 by artists Loraine Leeson and Peter Dunn in response to the concerns of East London communities over the extensive proposed re-development of the area. The newly elected Conservative government designated the land surrounding the working docks as an Urban Development Corporation. This effectively removed local control from an area crossing five London boroughs, with the aim of transferring it into private ownership. However, this land, now known as the London Docklands, not only incorporated docks and warehouses, but was also home and workplace to 56,000 people. An arts project that began as a request for a poster eventually became the cultural arm of an extraordinary campaigning community over a period of ten years. One of the projects photo-murals requested by the Docklands groups, will be displayed in Real Estate.
www.cspace.org.uk
www.arte-ofchange.com
Loraine Leeson will present the Docklands Community Poster Project alongside her current work as part of Real Estate. See Diary for details.
Silwood Video Project (2001–ongoing)
Spectacle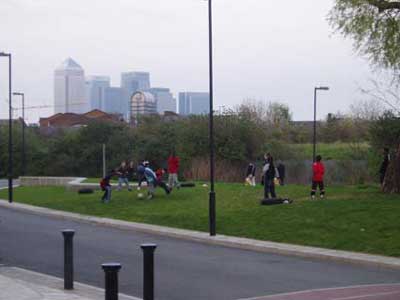 Spectacle is an independent television production company based in London specialising in documentary and community-led investigative journalism. Spectacle works with communities to harness video as a tool for communication and to consider issues of regeneration from the resident's perspectives. Silwood Video Project presented in Real Estate is a Spectacle initiative on Silwood Estate in Rotherhithe that provides local residents with the opportunity to create videos. Participants have recorded major changes in the life and built environment of the Silwood Estate as well as documenting regeneration meetings and monitoring proposed maintenance and building work on the estate.
www.spectacle.co.uk
Murder as a Fine Art (the Ritualised Death of the International Mural Artist) (2005)
Roman Vasseur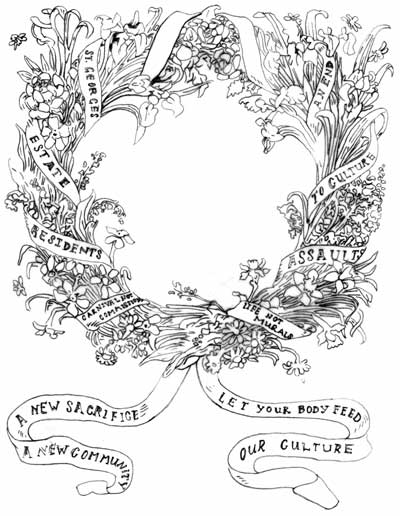 image: Roman Vasseur, 'Wreath for Sacrificed Artist' from 'Murder as a Fine Art (the Ritualised Death of the International Mural Artist)', 2004

Roman Vasseur, resident of St. George's Estate, Shadwell, East London presents a detailed proposal for the ritualised and voluntary death of a public artist as an alternative 'site' for the coming together of the local community. Vasseur's convoluted and fantastical proposition was first shown at Jeffrey Charles, a gallery local to the LCC designed, Brutalist set of buildings near to Tower Bridge and News International. The work was a response to an attempt to 'improve' a desperately under-maintained estate via the commissioning of a 200 metre long mural. The essay and drawings re-employ both the mock-morality of 19th Century author Thomas de Quincey and the mob-attended burial of the infamous Highway Murderer at the cross roads adjacent to the estate in order to polarise the implicit violence in public art commissioning that demarcates communities as under-resourced. For Real Estate a garland of joy announcing "An End to Culture Assaults" will adorn the gallery.